08/22/2017 05:15 AM
My Child is Having Sex...
Daniel Weiss, consultant for the Learning about Sex series and founder and president of The Brushfires Foundation, offers valuable insight for talking with children about God's design for sexuality. Learn more at cph.org/las.

"The Learning About Sex series has long aided parents who wish to impart godly values to their children. With this latest revision, they have done an incredible job of helping youth and adults alike understand the challenges of sexuality, relationships, and personal identity within the larger context of our faith. Sadly, many youth today, including in the Church, treat their sexuality as something entirely removed from their spiritual lives. I am pleased to say that this series grounds these delicate matters in the Word of God and does so with compassion, conviction, and enthusiasm for the blessings that come from pursuing God's beautiful design for our lives. This deeply Christian approach to education about sex, the body, and relationships is a rare gift to the world. Every parent should seize it."
—Daniel Weiss, founder and president of The Brushfires Foundation
08/22/2017 05:15 AM
Miracle Gives Family Unable To Conceive 3 Children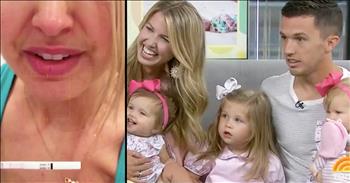 Aly Taylor was just 24 years old when she found out she had stage 3 breast cancer. Because of the radiation treatment, Aly, and her husband Josh, were told they would be unable to get pregnant. Aly and Josh longed for a family of their own, so they adopted a baby girl Genevieve, in 2015. And just 9 months after that, Aly was in for the surprise of her life when she found out she was pregnant. Aly describes this moment as a miracle from Heaven, but the surprises weren't over yet. While pregnant, Genevieve's birth mother contacted Aly and Josh and let them know that she was with child again and asked if they would want to adopt Genevieve's biological sister. The couple knew this was the path God was leading them on and they said yes. Now watch this amazing family of 5 as they describe their blessings on Kathie Lee and Hoda. What a beautiful and faith-filled family.
08/22/2017 05:15 AM
Toddler Sings 'Somewhere Over The Rainbow' To Kitty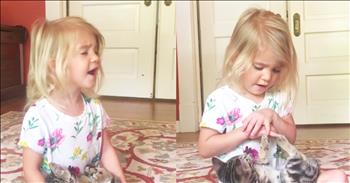 This precious toddler may be small but she has an amazing singing voice. Just listen as she sings 'Somewhere Over The Rainbow' to her beloved kitty. You can tell that this tot has so much passion and confidence in her voice! There's no doubt that God surely gave her an amazing talent for singing and she's spreading that beautiful voice with the world. And I think from the look on her face that the kitty enjoys the music just as much as I do. What an amazing performance from this sweet little child.
08/22/2017 05:15 AM
Grandson Sings To 98-Year-Old Bedridden Grandma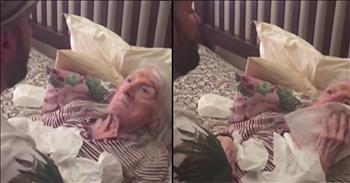 When he was just a young boy, Ash Ruiz's grandma used to sing the Nat King Cole classic 'Unforgettable' with him. Ash says that some of the fondest memories he has of his Grandma Jean are when she was singing around the house. Unfortunately, she lost her singing voice years ago and is now bedridden. Today, she's turning 98 and instead of singing 'Happy Birthday' to her, Ash knew exactly what song to choose. Just watch this sweet moment as he serenades this loving woman. And when you starts to dab her eyes at the end, I nearly lost it. What a beautiful memory.